What is flipped classroom?
The flipped classroom is a trendy teaching-learning method. It is a form of blended learning.
What is blended learning?
Blended learning is a teaching method which includes a combination of face-to-face and online teaching.
What is happening in a flipped classroom?
In a flipped classroom, teachers use technology and share pre-class learning material to students at least one week before the face-to-face (F2F) class, and students study the material before attending the F2F classroom.
Teachers design the F2F classroom as an interactive educational environment by using student-centred teaching strategies for allowing the students to apply or evaluate the learnt concepts. In post-class settings, students receive the opportunity to solve newly emerging issues of learnt concepts.
How the flipped classroom differs from a traditional classroom?
In a traditional classroom, students come to the face-to-face classroom, which is the first instance they are exposed to the new knowledge. Teachers can give home tasks to students. Then, they can apply the learnt knowledge in their own environment with minimal support.
In a flipped classroom, students get the basic information before attending face to face classrooms through pre-class learning materials. Student attends a face to face classrooms so that they can apply the learnt concepts with guidance from the teacher. Post-class activities that are designed for checking students' understanding and extending their learning.
The main difference in the flipped classroom is you are changing the venue of low-ordered learning and high-ordered learning. In a traditional classroom, low-ordered learning usually happens inside the classroom, and high-ordered learning occurs in outside the classroom. But, In FC, this process happens the other way around.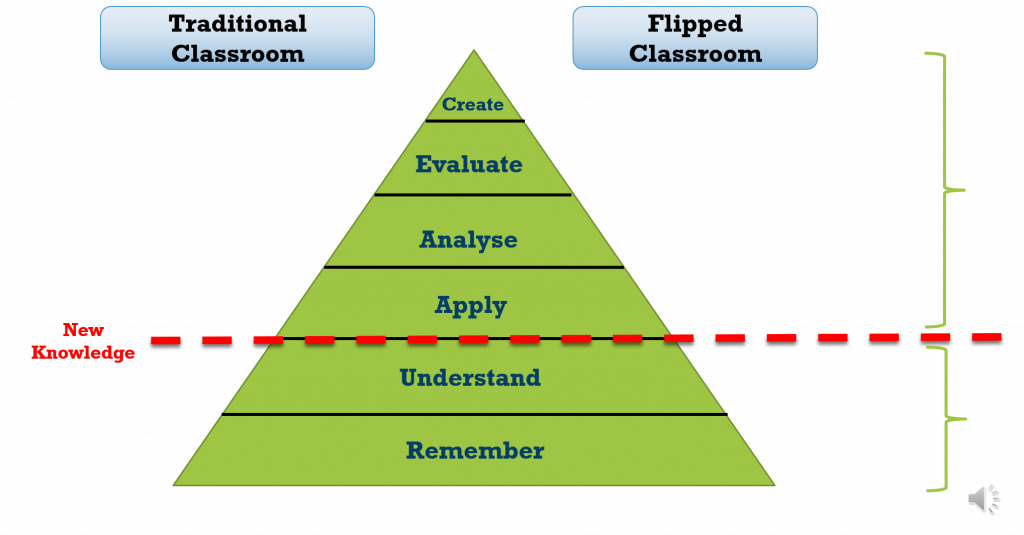 Please attend the quick quiz